Questions You Should Ask Your Criminal Defense Lawyers
Of course, we hope that you never need criminal defense lawyers, but if you do, it pays to know what questions to ask. You only get a limited time with your lawyer and the information they have to give you could be incredibly important – so get your questions ready and know what information you need.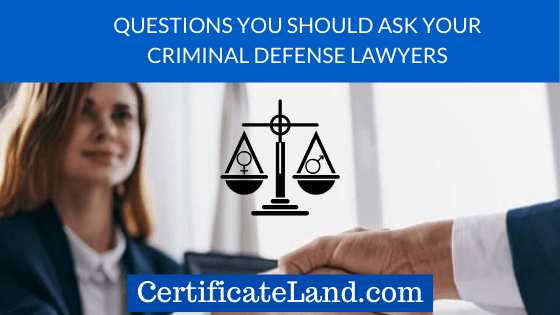 Five Questions you should ask your criminal defense lawyers
1. What are your Background and Experience?
Make sure that your potential criminal defense lawyer has enough experience in cases like yours. You want them to be confident in the advice they are giving, and it helps if they have a good relationship with the courts and prosecuting bodies.
2. What are my options?
Talk to your lawyer about all of your options in regards to the trail. Some defendants don't need to go to trial, or if they do, don't need to give evidence.
Find out your lawyer's opinion on how you should plead, if they have a strategy that you should use, and get them to talk you through the different stages of the process and cover what could happen. You want the worst and best-case scenarios as well.
3. Will you be managing my case?
When interviewing your defense lawyer, ask if he/she will be directly managing your case, or if it will be handled by another attorney. Some law firms get their matters case managed by other solicitors or junior staff. This can be quite reasonable in a lot of cases, or for some of the proceedings, but it can help put your mind to rest if you get this sort of information upfront.
4. How much will it cost?
This is one of the biggest questions, and probably the most important one you need an early answer to. Fees between lawyers can be competitive, however, you shouldn't necessarily go for the cheapest law firm – you do get what you pay for. You might need to pay slightly more for experience and quality representation from the best criminal lawyers, for example.
5. What do you think?
Experienced lawyers will have seen many of these kinds of cases before, and should have a good idea of how your case might play out. This doesn't mean sugar-coating things or just promising positive outcomes. Experienced high-quality lawyers will be honest with you about your chances, so don't necessarily go for the one who promises you the moon.
Go for the one you can talk to and understand, and who you feel listens to you. Your criminal defense lawyer should always be working with your very best interests at heart.