Pros and Cons of WordPress Cloud Hosting
Cloud hosting is the sensation of modern web hosting services. Now there is no bound to bandwidth and disk space. Cloud hosting has enabled us to get unlimited disk space and bandwidth at very affordable prices. Also, cloud computing has blessed us with huge spaces online. Thus, we can keep backups of all your necessary data. Therefore, we don't have to be concerned about losing data because of technical flaws or losing devices.
WordPress is the most famous medium of cloud hosting at present. WordPress isn't that old, but it has already become very popular among web designers and online business professionals. Are you thinking of opening your online business with the help of WordPress? Not a bad idea. But before you start your business with WordPress, you should know about the pros and cons and then make the final decision.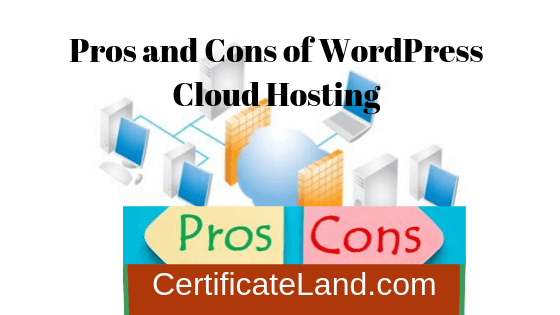 Pros of WordPress Cloud Hosting
WordPress is the easiest medium for updating content. Unlike the other mediums, you won't have to manually add content inside the code of the page. You need to visit the dashboard and click on add content option. There you will find a section to write your content. By clicking the post button, you can successfully publish your written content. Apart from that, you are enabled to edit or delete any old published content. The best part is, you can write contents and make a schedule for them to be published. Your content will automatically be published according to the schedule.
For the success of your business, traffic is very important. If your website can't attract any traffic, then you should give the effort to earn some money from that website. For bringing traffic to your website, you need to bring your posts higher on search engines. For accomplishing that, SEO is the most effective tool. WordPress gives you the opportunity to use the SEO plugins to help you to optimize your posts for search engines.
If you want to open an eCommerce site, WordPress is the best option. WordPress already has all the necessary themes and applications that will help you to develop a great eCommerce website. You won't have to design on your own. Thus lots of your time and effort will be saved.
WordPress websites are responsive. That means the visitors of your website will be able to visit your website from any device. This will help you to increase the number of visitors. If your website is not responsive, a certain area of potential visitors can't be targeted. But with responsive themes from WordPress, you will be able to reach all the potential audiences.
Cons of WordPress Cloud Hosting
Maintaining the themes can a little tricky at times. If you use the basic themes, you won't have that much issue with the themes and maintenance. But are you someone who wants to make his website look like someone else's? I don't think you fall into that category. So, you will try to use custom themes. Making beautiful custom themes and designs require some web development knowledge.
WordPress software updates quite regularly. It is a dynamic piece of software that runs on the service of your website. Lots of updates and patches are released every year to keep it secure from the hackers. Also, the updates bring new codes and themes. If you don't have the proper skills and knowledge about updating your website according to the recent updates, your website will be backdated.
For the newbies, WordPress is not a very good place to start a career. It is not totally impossible for the newbies to set up their business. But the fresh new WordPress websites don't get loads of traffic within weeks. People with web development, online marketing, and SEO knowledge can make the best use of WordPress. Newbies can be disheartened here.
Conclusion
So, it is totally up to you. You can start your online business with WordPress today; even you can try something else. Personally I will recommend giving a try. WordPress is fun to play with and you will learn the tricks in a few months. You have to be patient, but patience will bring you unbelievable results in the future. if you think you can do better without WordPress, then that's your choice. I respect that too.