7 features to be considered before choosing any web hosting company
Choosing a decent web hosting company can be quite tricky. You can't imagine how many web hosting companies are offering their services at present. The number will cross millions most probably. When you have so many options to choose from, getting confused is quite normal. Different people have different methods of choosing the web hosting company they would like to maintain their website with. Some people go for the prices, some people go for the big names, some people go for the features and so on. If you want to choose a company from a neutral point of view, then you need to consider some particular features. If you find all those features within a company, then you can expect that company to be a good one. Here are some of those features: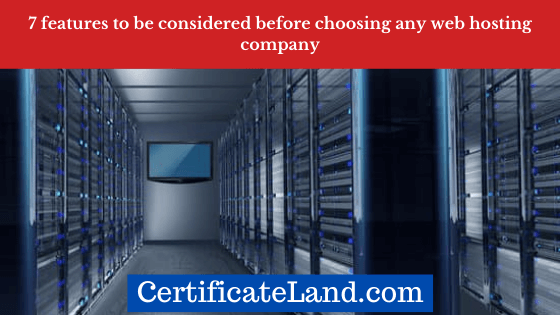 1. Disk Storage
Depending on the size of your website, you need a certain amount of online storage to park your website. Before choosing the company, make sure whether the company is capable of occupying your website or not. Each and every web hosting company has different web hosting plans. Choose the plan that has enough disk storage. You shouldn't choose a plan with too much storage. You will be paying money for unused space then.
2. Bandwidth
Bandwidth refers to the amount of information that can be transferred in a certain amount of time. Good bandwidth is necessary to ensure the visitors of your website don't have to wait too long for loading the pages. Without decent bandwidth, you won't be able to get enough traffic from your website people don't like to visit webpages that take too long to be loaded.
3. Domain
If your web hosting service provider enables you to have as many domain registrations under the same account as possible, then nothing can be better than that. Well, there are not many companies that offer such great service. You should select that company which will be able to fulfill your needs. For example, if you need 20 domain registration from a single account, there is no reason to choose a plan with 10 domain registrations per account.
4. Email
Having an email service associated with your website is a great feature to have. If your website has this service, you will be able to create "@yoursite" email accounts. Also, you can offer this service to your customers.
5. Control Panel
This is a very crucial feature of any web hosting service. Most of the website owners don't seem to have that much knowledge on web development. Still, they need to maintain their own website. They need to add new content to their website on a regular basis to keep the site updated. The control panel provided by the hosting company plays a vital role here. You should service with such a control panel which is familiar to you. If you find the control panel too complex, then you won't be able to handle your website effectively.
6. Customer Support
Your website can suffer from different issues. It is quite normal for website owners. When you will have problems with your website, you will need the customer support of your hosting company to assist you. Make sure the customer support of your hosting company is responsive and skillful. If they are able to give solutions to your problems immediately, then you won't have that many issues maintaining your website. On the other hand, if they are not skillful enough, your business can suffer from huge losses if your website faces downtime. Website maintenance issues should be solved immediately.
7. Security
Security is another big concern here. You can't afford to pay a service that doesn't ensure the security of your website. If the beloved website that you have developed with so much hard work gets hacked, it will cause you a great loss. Make sure that your hosting service provider ensures topmost security to the websites of their clients. The hackers are greatly advanced nowadays. They can hack websites anytime. But your web hosting company should have skillful professionals to prevent hacking and regain hacked websites.
If a company can ensure all these features at an affordable rate, then you can happily hire their services.