4 Tricks for USB Flash Drive Data Recovery!
Deleted your important data from a USB flash drive and now wondering how to recover it? If yes, stop worrying as here in this blog, we have talked about some tricks you can use to get back your lost USB flash drive data in no time.
However, losing your flash drive data is a worst-case scenario, especially when you don't have a backup. But now, there are numerous ways available to retrieve the deleted data from USB pen drive. Well, before proceeding directly to the tricks, you must get to know the causes behind data deletion.
What Causes USB Flash Drive Data Deletion?
There can be numerous reasons behind data deletion. However, some of them are highlighted and stated below for your reference.
Accidentally or intentionally deleted.
While transferring, data was lost due to some unknown reason.
After shutting down of system, forgot to unplug the USB pen drive.
Virus or malware affected.
Data becomes inaccessible.
So these are some culprits that cause your USB pen drive data to be lost. Now that you are aware of these you can easily perform flash drive data recovery.
How to Recover Lost Files From A USB Flash Drive?
Solution 1: Check Your Recycle Bin For Deleted Media Files
In case you deleted your media files accidentally or intentionally, they got stored in Recycle Bin. Hereby, starting with checking Recycle Bin is considered to be the best way to restore deleted data from Flash drive. So, to recover the deleted media files, you just need to follow some quick steps below:
Go to Recycle bin folder and open it by double-tapping the folder.
Next, look for the files and folders you want to be restored.
Then, tap on the selections made and select Restore.
Solution 2: Restore the Previous Versions
Sometimes, the deleted files did not make it to Recycle bin. So when you face such a scenario, go for restoring the previous files/folders versions. For this, follow the guided instructions below as mentioned:
At first, open "File Explorer."
Then, locate the files/folders that you want to restore.
Make a right-click and go for the option Restore previous versions from the appeared menu.
Now, choose the version of the file/folder which you want to restore from the displayed list.
Finally, tap on the Restore option to recover.
Solution 3: Using CMD Attrib Command
If none of the above solutions works for you, then use the Attrib command to recover files from flash drive. The Attrib command is mostly used when your files get hidden, and you are not able to view your saved data. So, to use this command, follow the guidelines below:
Open the Run dialogue box by pressing Win + R keys altogether and looks for cmd.
Once appeared run it with administrator privileges by right-clicking on it and selecting the Run as administrator option.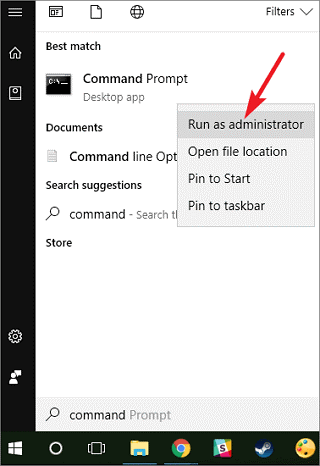 Now, on the appeared cmd panel, type the command "chkdsk X /f" and press Enter.
Note: [The letter "X" can be changed as per your driver letter that you use for the USB flash drive.]
Next, press the"Y" key to confirm and then press Enter.
After then, type "X" and press Enter.
Mention the command "X:\>attrib –h –r –s /s /d *.*" and press Enter.

Now, wait for the command to execute, and once done your files got recovered.
Solution 4: Recover Using Backup
In case you have already backed up your media files before deletion, then you can use that backup to retrieve your deleted data. Follow the steps below:
Connect the backup media storage to your system.
Next, hold the Win+ I keys altogether and go for the Settings
Now, select "Update & security" and go for the "Backup" option there.
Then, select the option "Go to Backup & Restore" and tap on "Restore my files."
Final Words
Well, deletion of media files is a very annoying situation whether you lost it intentionally or accidentally. However, whatever the reason behind your USB flash drive deletion, you can easily perform flash drive data recovery anytime and anywhere to retrieve your lost data.
I hope the blog stands out to your expectation, thereby helping you get back your deleted data with the mentioned tricks in no time.