Ten Things You Need To Consider Before Choosing a Web Hosting Company
Choosing a good web hosting company is an important decision and part of your online business plan. There are many web hosts on the internet and sifting through the list can be both confusing and time-consuming. Fortunately, you can use the following factors to establish a reputable host and save your time.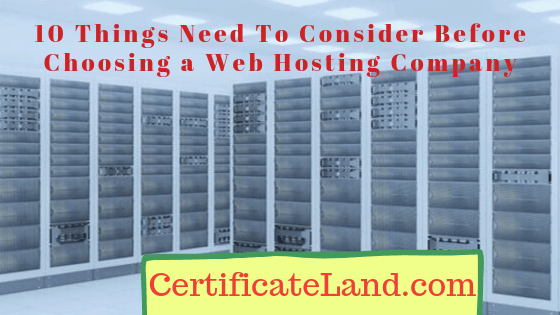 1. Cost
As the old saying goes, what you get is a reflection of what you paid for; this applies to hosting services as well. The hosting service you choose is the foundation of your website. It will determine whether you will receive visitors and make sales or not. You should factor the cost aspect of your budget. Approach with caution those hosting companies that claim to offer 'unlimited' or 'cheap' accounts. Generally, ensure that the payment plan reflects the quality of service offered.
2. Compatibility
You should take some time to understand the type of technology that your hosting company uses. For instance, if your site runs on a WordPress platform, ensure that the hosting service is compatible with WordPress and offers a WordPress installation. Find out whether the server is Windows or Linux based. Besides, you need to find out whether they're running the latest version of PHP and other databases like MySQL.
3. Reputation
Read reviews from previous customers to find out what they have to say about your potential hosting company. Type the name of the company followed by review in your favourite search engine, and you will come across some reviews. Most companies have testimonials on their sites. You may want to read these ones as well.
4. Technical Support
It is crucial to work with a host that has accessible and competent tech support. It is not enough for them to indicate on their website that they are available 24/7 as some companies do this as a formality yet the truth is they are offline most of the time. Test their support service by sending them an email on a weekend or at midnight and see how long it will take before you receive a response.
Things can go wrong with your website at the most unexpected of times and you need a host who will be available to offer you the much-needed tech support. Check for the availability of live chat, phone contact and email on their website.
5. Choosing Dedicated, Cloud or Shared
You should project the amount of traffic your site will attract and other future expectations. You also need to take an inventory of your website's special features. For instance, will it be a blog or an eCommerce site? If you're using shared hosting, ask about how many other sites the company hosts on its servers.
6. Resources
Often, resources like memory allotments and CPU are glossed over.  Data-rich websites, high-traffic sites, eCommerce sites or those with custom functionality will require higher memory allotments and CPU or else they may slow down and even crash.
7. Email and Autoresponder
If you have plans to use a hosting service provider for your email service, you should, first of all, find out whether the company provides an email. If they do, you need to establish the number of email accounts you are going to need. Do they have an autoresponder feature that automatically replies to emails whenever you are away from the office, for instance? Also, find out whether the hosting provider has a good webmail interface or whether you will be required to use a third party like Google Apps in order to access your emails.
8. Bandwidth and Storage
Unlimited bandwidth is mythical. Most companies that purport to offer unlimited bandwidth usually have restrictions hidden somewhere in their policies. So, you should go through their terms of service and read the fine print in order to understand what you're buying. Reputable companies will outline any additional costs for moving beyond your given bandwidth and storage.
9. Security
Many companies offer firewalls in addition to other security features for protecting your website. If you intend to set up an eCommerce site and collect online payments directly, ensure that the host provides a secure server (SSL) feature. You don't need this feature if you intend to use third parties (payment gateways) like PayPal to help you collect payments.
10. Backups
It's paramount that your hosting provider offers server backups on a daily basis. This will enable you to have a fresh copy of the most essential information. If your website is infected by malware or crashes, the server should easily restore the files.